« July 2001 | Main | September 2001 »
August 31, 2001
Veteran Rewards Update
From FYI:
Just as a quick update, we believe that the connectivity issue regarding the Veteran Rewards server has been resolved, and the fix is in the testing stages. We hope to be able to continue re-activating the system on the UO shards very soon, and will notify the players once the new schedule is determined.
Posted by Hazard [EiC] at 8:05 PM
August 30, 2001
Client Patch 3.0.4k
From FYI:
We will be releasing a client patch on Thursday, August 30th at approximately 1:30 pm CDT. This patch contains the following changes:

2D Gameplay window can now be resized without restarting the client

When in a party in 3D, the player's status bar will have heal/cure buttons

Improvements to the "Last Shard Used" button functionality in the 3D client

The character creation templates have been revamped

Many crashes and other bugs have been addressed in this patch

Book crash fixed

Players are not always put in Britain when not using Advanced creation mode

They are put in a random starting city.

No notoriety queries in Trammel

Increase in maximum number of starting stat points

The current versions should now be 3.0.4k (2D client) and 3.0.4k Build 72 (3D client).If you have any difficulty receiving this patch, please check the following:

Check the "Patch" directory within your Ultima Online directory (the default location is C:\\Program Files\Ultima Online\Patch). This directory should be empty. Any files in this directory should be deleted.


If you are unable to connect to the patch server at all, and are using an original (Non-T2A) version of Ultima Online, you may need to update your verinfo file. For details on updating this file, please see the information posted at http://support.uo.com/tech_6.html.


Run a virus scan on your computer. Undetected viruses may cause conflicts with patching Ultima Online. For information on up-to-date virus detection software, please visit http://www.mcafee.com/myapps/vso/default.asp.

If after trying the above, you are still experiencing difficulty patching the Ultima Online client, please contact Technical Support at tech@uo.com.
Posted by Hazard [EiC] at 3:00 PM
August 29, 2001
FCB Ferryboats Ready to Depart! (Global Baja)
Have you ever wondered who was banging on that awful lute across the channel from your home? Ever needed a boat on hand to take out fishing or to actually sail to the mainland from Skara Brae?

If so read on….

The Fisherman's Council of Baja is proud to announce a unique and entirely free service for the entire Shard of Baja. The Baja council, under the tutelage of fleet captains Foofisher & Lonestar, have commissioned the launch of seven ferryboats in various areas of our land.

These ferryboats can be used by any citizen of Baja and taken out on fishing expeditions, treasure hunts, or to just simply cross a small channel of water. The sides will be left unlocked and one of our Boatswains will bring the boat back to its home port if it strays too far off course.

You will be able to find the Ferryboats in the following locales across the facets:

TRAMMEL
Magincia Docks

Skara Brae Docks

Britain Docks

Moonglow Harbor Docks
FELUCCA
If you would like to find out more about the FCB, please ICQ Foofisher @ 42314161 , Lonestar @ 54512593 or visit our vendor filled Guildhouse on Trammel (N of Minoc) @ 129 59'N – 83 2'E. Alternatively you can contact us through our website @
http://www.thefcb.com
.
Oceanus
Lumi Captain
Boatswain,
The Baja Fleet
Posted by Thellaren at 9:26 PM
Veteran Rewards Schedule Update
Posted to FYI:
Since we began activating the Veteran Rewards system, we have been carefully monitoring the usage and performance of the Veteran Rewards hardware. The release has gone smoothly thus far, but we have found some connectivity issues with the rewards server. As more shards get rewards and the server is accessed more, these connectivity issues will result in packet loss, creating longer wait times for the rewards gump to appear, and for the reward selection to take place. If more shards are activated and the problem is left unfixed, it could eventually result in packet loss on the servers themselves, creating lag on the shards.

To resolve this problem before this happens, we will be temporarily halting the activation of Vet Rewards, and re-evaluating the current schedule for release. As previously scheduled, the system was successfully activated on the Pacific and Lake Superior shards today, but we were unable to activate them on Siege Perilous at this time. Shards that have previously had Vet Rewards activated will not lose the ability to choose those rewards, but the system will not be activated on any new shards until this is resolved.

The connectivity fix is receiving top priority, and we anticipate that this will be resolved soon. We will post a new schedule as soon as the problem has been resolved.
Posted by Hazard [EiC] at 6:44 PM
August 28, 2001
Power Hours Off Schedule
From FYI:
Normally, the first hour that each character is played on any given day allows that character a special possibility of some bonus skill point advancements, and this time is known to many players as the "Power Hour." The Power Hour time frame should reset each day at midnight, related to the shard's local time. Currently, however, all North American and European shards are incorrectly resetting their respective Power Hour times based on Midnight GMT. (Please note that Power Hours are still occurring properly for all shards, albeit off-schedule.)

We are working to resolve this situation. In the meanwhile, we ask that players who enjoy managing their time around the Power Hour schedule to please refer to the chart below. This chart shows when Power Hour is currently resetting on all shards.

East Coast Shards: 7:00pm EST
AOL Legends, Atlantic, Catskills, Chesapeake

Central Shards: 7:00pm EST
Great Lakes, Lake Superior

Siege Perilous Shard: 6:00pm CST

West Coast Shards: 4:00pm PST
Baja, Napa Valley, Pacific, Sonoma

European Shards: 12:00am GMT
Europa, Drachenfels

Asian Shards: 9:00am JST/KST
Hokuto, Yamato, Asuka, Wakoku, Izumo
Arirang, Balhae
Formosa

Oceana Shard: 12:00pm EDT
Posted by Hazard [EiC] at 9:50 PM
Crafting System Overhaul
From In Concept:
Several updates and changes will occur that will eventually affect all of Ultima Online's crafting systems. The goals of these changes include: creating a consistent interface for all crafting skills, allowing the player to understand a greater level of detail about his crafting activities, greater CPU efficiency, and adaptability & expandability as crafting systems are modified at later dates. The following skills will be affected by these changes:

Alchemy

Bowcraft/Fletching

Blacksmithy

Carpentry

Cartography

Inscription

Tailoring

Tinkering

The specifics are listed at the following site.
Posted by Hazard [EiC] at 1:04 PM
Sannio's Other Interests
Recently an interview centering around our old editor-turned-UO Community Coordinator (Nobody/Sannio/Keith) was posted to the following comic book site:

http://www.geocities.com/angelo_mortalli/

To skip straight to the interview, just go here:

http://www.geocities.com/angelo_mortalli/interviews/k_quinn/k_quinn.html
Posted by Hazard [EiC] at 1:03 AM
August 27, 2001
UO Headed to Korean Market
From Digital Media Wire:
(Redwood City, Calif.) Game developer Electronic Arts announced on Monday that it will begin offering online games to the Korean market this fall. The company will first release "Ultima Online" and plans to offer "The Sims Online" and other titles. Redwood City-based Electronic Arts estimates that there are 25,000 online "game rooms" in Korea where users pay by the hour to play games.

http://www.businesswire.com/cgi-bin/f_headline.cgi?day0/212390027&ticker=erts
http://www.ea.com
Posted by Hazard [EiC] at 9:05 PM
August 26, 2001
UO Seers Seeking House and Item Donations
From Tradespot (Baja):
Yes, the new UO Seers and Troubadours will soon be here. We are gathering on all shards, preparing quests and events for all the players to enjoy. See the link below for our new web site. And, we also have a forum on Stratics at http://boards.stratics.com/php-bin/guilds/uo/all/postlist.php?Cat=&Board=genuoseer

But, since we are a "truly" volunteer group, not supported by OSI, not given special powers or the ability to do as we wish, we need some help from the citizens of our fair land. We are seeking donations of all sorts, but one of the first and most important is a dwelling in which to store our items, have our meetings and prepare our events. Some of our events will be held in this donated structure, or at least a stopping point on the road to solving quests. Therefore, the larger the structure, the better.

Please note that we, the individual seer or troubador, does not perform on his or her own home shard. We need to create characters as needed and many of us have no slots open on our home shards. Therefore, as you know, we are born with only 1000 gold pieces, hardly enough to think about buying anything other than training in some extra skills we'll need and a few fish steaks.

Please remember, the dwelling is the most important at this point, but we won't turn down any items we could use for our events and quests, such as rares, gold, silver and special weapons for prizes, a guild stone, books, clothing, scrolls, reagents, full spell books, rune books, empty containers such as chests for our dwelling, anything you can think of.

Please contact me via ICQ or email if you can help with any of the above. I will meet you at the West Brit Bank in Trammel. My ICQ number is 128071387 and my email address is radnor@rogerswebs.com.

Thank you in advance for any support you can offer.

Sincerely, Troubador Radnor Baja Shard
Posted by Hazard [EiC] at 3:25 PM
August 25, 2001
Player Seer Program Update
Taken from the UO Seers Website:
This week marks the grand opening of the "UO Seers" Program. In just our first week we have managed to wade through the overwhelming number of applications and assign over 50 seers to the various Ultima Online shards. Currently we have been able to service all U.S. shards, all European Shards, and Oceania. At this time we do not have the resources to cover the Asian shards, but once we have firming established ourselves on these shards we will push full-force to expand our group to the Asian shards.

As many can imagine, setup is the most time consuming task with any organization. We too are having growing pains -- we are currently shifting people between shards to utilize our resources fully, we are fighting those people who wish us to fail, and we are awaiting the setup of our very own message board. Within the next few weeks, we will hopefully get these problems ironed out and we will be able to begin the fun part...creating events!

The website will be undergoing some expansion soon as well. One page we are working on is the second quest creation tutorial. This tutorial will be focused on managing the available resources to fit the plotline you have created. Another exciting page we are working on is the Quest Creation Tricks of the Trade. This page will include little known tricks that will dazzle and astonish your audiences! The page will also include all those juicy secrets that some of the veteran quest makers use. Finally, we have several other amazing pages still in the planning. There will be many changes happening over the next month.

Perhaps some of our friends out there may be wondering when the events will actually start! The plan is as follows: Within the next week or two there shall be preliminary events on most shards, events like scavenger hunts, archery contests, etc. Once the teams settle into their routines you will begin to see more storyline based quests, and multi-week events. This isn't to say that we will stop doing smaller quests, but we will also have the more major events! The scenarios WILL be integrated into some of our events, and hopefully we will be able to launch a multi-shard quest related to the next scenario. The important thing to remember is that we are dedicated to being a vital part of the shard communities and we hope to earn the trust and respect of our shards.
The current listing for Baja is currently available
here
and the new global messageboard for all Seer related activity can be found
here
.
Posted by Hazard [EiC] at 5:44 PM
August 24, 2001
Events Ideas From Sannio
Comments From the Team was updated with the following article written by Keith "Sannio" Quinn, on the UO.COM website. Here is a sampling:
Creating an Event: Development

Some of us have already created, or plan to try our hand at creating, events for other players in Ultima Online. This article is a checklist of sorts, collecting some information which might be as helpful for those of you who are just starting out, as those who are seasoned event creators. In fact, this is the first of a series of four articles: "Development," "Preparation," "Management," and "Aftermath."
For the entire length of the article please head to the following
location
.
Posted by Hazard [EiC] at 9:13 PM
Kingdom of Dawn Forum Reopens!
From the Dawn Forums:
The Kingdom of Dawn domain has been successfully moved to the new server and we are now running new forum software. The forum looks pretty generic right now, but with a little work we'll have everything looking good again.

You'll find this software to be similar to what we were using before with some minor differences. One change is that you are required to have a valid email address to register. This email will be kept private and is simply required so that I have a way to contact forum members if necessary.

The new Dawn web page is under construction and should be up within the next couple of weeks.

Desmond Cross
Kingdom of Dawn
Posted by Hazard [EiC] at 6:04 PM
Veteran Rewards Progress Update
The following news was posted to FYI today:
Due to widespread network issues, the Veteran Rewards server was unable to communicate with the Napa Valley shard for much of this afternoon. We have resolved this issue, and will be bringing the Napa Valley shard back up with the Rewards system active in just a few minutes.

Due to the high number of accounts simultaneously logging in and checking their account age, the server may become backed up, and the gump may take up to 5-10 minutes to appear. We anticipate this time will shorten considerably once the initial rush is past. Players are being asked to please wait patiently for the gump, rather than log in and out repeatedly.

IMPORTANT: Rewards are chosen per account, not per character, and are not transferable between shards once chosen. Do not accept a reward on the Napa Valley shard if you do not play on that shard regularly.
Posted by Hazard [EiC] at 2:42 PM
August 23, 2001
Veteran Rewards Update!
The following good news was posted to UO.COM earlier today:
After resolving a multitude of code and hardware-related issues, we will be activating the Veteran Rewards system on the Napa Valley shard on Thursday, August 23rd at 12:00 PM CDT. We will monitor the system closely on the Napa Valley shard the rest of this week, and will begin activating the Rewards system on the remaining shards once we are certain the system is operating as it should.

We're extremely grateful to our veteran players for the patience they have shown as we complete the Veteran Rewards system, and as a way to say thank you, we'd like to offer an extra reward choice to all players on all shards who are currently eligible for a Veteran Reward. This means that when the system is activated, one year veterans - who would previously have been allotted two rewards - will now be eligible for three. Two year veterans will receive four, and three year veterans will be eligible for five. All players will receive this extra reward choice once they reach their one-year status.

All rewards that have been chosen to date will be counted in the totals, meaning that players who have chosen more than their allotted share previously will not be eligible to choose new rewards, and will not receive the extra reward choice (since they already received extra rewards when the system was first released). Players who have chosen fewer rewards than what they are currently eligible for will be allowed to choose new rewards until they have reached the total number they are currently eligible to receive. This will apply until the player is eligible for a greater number of rewards than they have already chosen. For example, a three-year veteran is currently eligible to choose five rewards. If a player has already chosen seven, then that player will not be eligible to choose another reward until they have reached their six-year veteran status, when they would be eligible for eight total reward choices.

IMPORTANT: Rewards are allocated per account, not per character or per shard, so be sure to choose rewards on your regular playing shard, and not on a separate shard. Rewards will not be transferable between shards once chosen.

For more information on the Veteran Rewards system, as well as a detailed listing of the rewards that will be available for one, two, and three-year veterans, see http://update.uo.com/design_350.html. For questions regarding Veteran Rewards and determination of account age, please see the Knowledge Base at http://support.uo.com/, or mail support@uo.com.
Posted by Hazard [EiC] at 1:45 AM
August 22, 2001
A wedding to be Held in Moonglow (Trammel)
Everyone is invited to attend the joyous union of Meri and Majik Man, both residents of Moonglow. The wedding will be held at 8pm Pacific time on September the 1st. The location will be at the Moonglow Lycaeum on the Trammel facet of Baja.

A reception will follow at the Lycaeum. Please come and enjoy friends, spirits, and a good time all around!
Posted by Hazard [EiC] at 7:41 PM
August 21, 2001
Spell Regeant Change
A small addition was made to the "Latest Update" article entitled "Combat Damage Changes". To sum it up, regeant use has changed on the following four spells:
- Magic Arrow: 1 Sulfurous Ash
- Fireball: 1 Black Pearl
- Lightning: 1 Mandrake Root, 1 Sulfurous Ash
- Explosion: 1 Bloodmoss, 1 Mandrake Root
Posted by Hazard [EiC] at 11:56 PM
Baja Citizen Interviewed at Celebrity Chat
Recently Baja Citizen 'Markee Dragon' was interviewed at the UO Celebrity Chat, hosted by the UO Stratics Team. You can read the transcript of the interview here and comment.

Also, Markee's newssite, www.markeedragon.com announced the following new addition to their site:
I'm sure that everyone at one time or another has wanted to buy, sell or trade something in the game but you really didn't know what the item was worth. Or better yet you want to make sure that you are not being scammed. Well now I introduce to you The UO Items Database. We have been slaving over this database for the past few months entering items and estimating their value. With over 800 items currently listed it's a great resource for anything that can be bought, sold or traded.

Since the Database is still new there are still items to be added. We currently list everything from Animals to Food to Weapons and Armor with much more stuff to come. Please join us for the grand opening.
Posted by Hazard [EiC] at 9:37 PM
August 20, 2001
Avalon PvP Tournament Results (Felucca)
The results from the Avalon PvP Tournament are in, and the following victors have been announced:

Melee Skills
Milkman Dan - 400k
Taming
Talon the Tamer - 200k


Magery
Red Tenshi - 200k


Mages & Warriors
Milkman Dan - 200k
Posted by Thellaren at 2:38 PM
Scenario Update
The following scenario information was posted to the UO Boards by Calandryll (Designer, Ongoing Content):
Just to answer the question I know is on everyone's mind, the next scenario will not be starting this month. Nobody is more dissapointed about that than I am, but we've hit some snags and decided to add more stuff (mostly related to the ending of the scenario) to make it better. I'd rather have a delay to make sure QA gets to thoroughly test everything and to make sure we add enough content to make the scenario enjoyable then rush it out the door just to make a deadline. Right now, we're working on the next (and last) patch (about 90% art complete), finishing up QA on the first half of the scenario (note, we don't have to test ALL of the scenario ahead of time before we launch, so don't take that as a terrible sign) and finalizing the second half of the scenario (probably about 70% code complete at this point).

I'll update everyone again once I have more information to share.

-Jonathan "Calandryll" Hanna
Designer, Ongoing Content
Posted by Hazard [EiC] at 1:12 PM
Sannio Promises to Look Into Blocked Ship Placement
From the Turbulent Waters Site:
One of the great unsolved mysteries of last year was the sudden and unexplained blocking of ship placement on the lake north of the Shrine of Justice. Shortly before housing was opened on the Trammel facet in the summer of 2000, players found that they could no longer place ships on that lake. This came as quite a shock to the lucky few homeowners on the island in the center of the lake, who now found the recall spell as the only way of reaching their homes.

Repeated attempts to get an answer from OSI failed, and players were left to make their own theories. Some speculated that it was an unintended side-effect of ship placement being blocked in dungeons, while others thought it a part of the crackdown by frustrated GMs weary of calls for help by folks stranded on the island.

It was brought up again by my friend Phoenix, who has a house on that island, and UO Community Coordinator Sannio replied:

You know, the change to that island's accessibility is something I've wondered about myself. I'll see if I can't look into that soon. (I don't know what can be done about it, but hopefully we'll at least know more about why it happened.)

There's good fishing on that lake, so let's hope Sannio's quest for answers not only gets an explanation, but perhaps leads to the return of sailing on that serene lake.
Posted by Hazard [EiC] at 1:32 AM
Bottled Water Deemed Legal
From the Turbulent Waters site:
In a question about its legality made on the UO.com In-Game Support message board, Player Relations Training Lead Canyon (I think that means the Leader of the Gamemasters) said the following about player-made bottled water:

It's legal to make, sell, own and trade. Is it still possible to make them?

The answer is yes, it still is possible to make them (see the Secrets of the Sea section of this site). For some time, players have been able to take any ordinary bottled item out to sea, find a certain kind of water tile, and use the tile to convert the bottle of ale, cider, wine, liquor, or pink champagne into a bottle of water.

Occasionally players attempt to fool unsuspecting buyers into thinking that bottled water is a rarity when in fact anyone can make them. In truth, the only time such an item might be worth any more than the price of the bottle would be if one used a pink champagne bottle to make it. Nonetheless, it is good to see a clear statement on this item from OSI.
Posted by Thellaren at 1:25 AM
Skara Brae Street Fair Results
Earlier today, merchants flocked from all over Trammel to hawk their wares at the Skara Brae Street Fair held by Queen Shieba's Alliance. Items ranging from Frenzied Red Ostards to piles of raw lumber exhanged hands throughout the 2 hour session, making for a more stimulating trading experience compared to the doldrums that purchase interaction usually carries.

From the reactions overheard, a rewarding night in Skara was had by all!
Posted by Thellaren at 12:42 AM
August 19, 2001
Day of Baja Weddings
In addition to the Trammel wedding between Lord Merlinist & Lady Nightmare (see news for Aug. 16th), a double wedding will be taking place on the facet of Felucca today. Details from the Official UO Calendar are as follows:
Double Wedding of: Mufasa & Ginger + Isabella & Trinity
Wedding Spot: 74.5 'S 12.43 'E (Felucca)
Time: 4-5pm PST

Extra Info: This is going to be a double wedding so the vows will be said at once, together. The reception might be at Isabella's house. Feel free to bring housewarming gifts :)- There might even be hope to have a little dungeon fun. Hope to see u there :)
Posted by Thellaren at 3:03 AM
August 18, 2001
Faction Report!!
Well it seems summer is taking its toll on factions. With many people gone on vacation or taking their college finals (Archangel), factions haven't enjoyed the 20 vs 20 or 30 vs 30 fights it once enjoyed. This week has been pretty slow with a minimum number of large raids and only a few people guarding sigils. After a week of hit and runs from Minax, TB and SL, COM managed to secure 5 towns while 3 sigils are still up for grabs (Brit, Minoc and Yew). Also, COM exercised their power over the cities, creating turrets in front of their stronghold as well as in front of TB's HQ, making movement of sigils very difficult.

In other news:

LOD's recent departure from Minax to go Chaos left many veteran PVPers heading over to Minax. Some felt that the enticement of COM had left and their actions would even the playing field as Minax has not been a major force in the battle for the cities lately. Also SL have suffered a severe lack of leadership as Archangel the guildmaster of M&D and leader of the Shadowlords has been taking finals in RL and unable to contribute his great leadership ability these last 2 weeks. TB has also felt the pinch of summer and often lacked the defensive force to guard 24 hours around the clock (Most factions aren't able to set up a 24 hour watch at this time). This has resulted in the loss of their sigils after the hard fought raids to obtain them.

Until next week may your horses live long and your traps give lots of silver!

Pat Factor
The #1 Stunna
M&D
Posted by Hazard [EiC] at 2:31 PM
August 17, 2001
Skara Brae Street Market Faire (Trammel)
The following announcement was seen on the Dark Warden's Board:
Hail All,

Queen Shieba's Alliance, a guild known for their dedication the Crafting Arts, has decided to extend their crafter's skills to those in need and sell their products in the town of Skara Brae. We will be doing this on Sunday, August 19th, and have committed to being there at least from 5:00-7:00(PST) server time.

This Street market faire is most certainly open to all, to either buy or sell. Our interests though, are to stress fun had by all and promote our role playing guilds. We will be very much more discreet than the selling that is done at the West Britain Bank. We would like to focus on crafted goods for selling, but would certainly allow people to sell other things as well . So prepare for a good amount of trade and fun.

~Dante~
~Lord High Chancellor~
~Ambassador of Queen Shieba~
Posted by Thellaren at 11:06 AM
August 16, 2001
Baja Targeted First With Combat Changes
The following was found on the FYI Section of the UO Offical Website:
We have published the changes and fixes listed in Testing for Next Update to the Baja shard. These changes are now currently active.

We will monitor the Baja shard over the remainder of the week and weekend, and barring any issues, will announce a publish schedule for the remaining shards as soon as we have a target date.
Another update was found shortly thereafter:
A few additions were made to Testing for Next Update regarding the Combat Changes and Tutorial/Haven items previously announced. These changes are presently active on the Baja shard. As stated earlier, we will be closely monitoring Baja and will announce a release schedule for the remaining shards as it is determined.

The changes will be added to Latest Game Updates once the publish is active on all shards.
Posted by Thellaren at 9:20 PM
EVENT: PvP Tournament this Saturday! (Trammel)
The following notice was found posted to the UO Stratics Baja Board:
Greetings. A good friend of mine, Night Stallion, as his final act before leaving UO, will be sponsoring a PvP tournament in Trammel! Valuable rares will be amounst the prizes, the Grand Prize being a LARGE MARBLE home on Trammel.

The tournament will be held at The Discordian Society's Tower near the Brit/Yew/Skara crossroads. Registration will begin at 4pm PDT and end at 5pm. No new registrations after 5pm. Hopefully we will begin the fighting around 5:30pm

You will be required to temporarily resign from your current guild and be added to the tournament guild stone to participate. Due to limitations of the system, Factioned players will NOT be able to participate because they cannot be added to the tournament guild stone.

The tournament will be divided into 3 seperate categories:

1. Melee only. No magery allowed.
2. Non-melee. No melee weapons.
3. All goes. Anything allowed.

Each category will receive a 1st, 2nd and 3rd place prize. The 1st place winners out of each category will compete in best out of three fight for the GRAND PRIZE! The final fighting will be 'Anything allowed.'

The tournament will be held on top of a LARGE TOWER. Using hiding, invisibility, or leaving the top of the tower during your match will be considered a forfeit. So practice up on your TOWER TOP fighting technique.

Bandaids and potions are permitted. Magic weaponry and armor is not permitted, but you may use jewelery (stat modifier magic) and clothing. ABSOLUTELY NO LOOTING WILL BE PERMITTED! Anyone caught looting an opponent will be immediately disqualified.

Gating from Britain (East and West banks) will begin around 4pm. The length of the tournament entirely depends on the turnout. Be prepared to hang around and have a good time, with a Grand Prize like that, there's probably going to be a lot of contestants. Good luck and see you there!

Also, no pets will be permitted. Horses and other mounts are OK, but stay on your pet at all times (when possible) to minimize lag for others.

Jasmine S
Posted by Thellaren at 3:03 PM
PvP Tournament in Avalon this Sunday!
Hail & well met! The City of Avalon will be holding a PvP Tournament Sunday, August 19th, pitting Sosaria's greatest warriors in a fight to the death in Feluccia's far reaches. All fighters of each class will enter the ring and only one will leave alive. There will be 6 classes with a check for 200k going to each class winner.
The classes of fighting will be as follows:
1. Swords/Fencing
2. Mace
3. Axe
4. Magery
5. Archery
6. Taming
The rules are as follows:
All fighters must flag when entering the fighting ring. There is a maximum of 10 bandages and five of each pot (don't want it to last all day). Tamers will be limited to rideable mounts, due to room constraints. DP'd weapons, magic weapons, magic armor & looting are allowed. No contestant will be rezzed until the winner of his or her respective class is determined.
This event will be at held at the Avalon Events Tower (123 29N 26 51E) on Sunday, August 19th at 3pm EST, 12 PDT. So come one come all & find out who the greatest warriors in the lands are!!!!! To find our city, please consult the maps found at the following location: http://www.avaloncity.org.
Katie of Avalon
Posted by Claude at 12:00 PM
PvP Tournament in Avalon this Sunday (Felucca)
Hail & well met! The City of Avalon will be holding a PvP Tournament Sunday, August 19th, pitting Sosaria's greatest warriors in a fight to the death in Feluccia's far reaches. All fighters of each class will enter the ring and only one will leave alive. There will be 6 classes with a check for 200k going to each class winner.

The classes of fighting will be as follows:

1. Swords/Fencing
2. Mace
3. Axe
4. Magery
5. Archery
6. Taming

The rules are as follows:

All fighters must flag when entering the fighting ring. There is a maximum of 10 bandages and five of each pot (don't want it to last all day). Tamers will be limited to rideable mounts, due to room constraints. DP'd weapons, magic weapons, magic armor & looting are allowed. No contestant will be rezzed until the winner of his or her respective class is determined.

This event will be at held at the Avalon Events Tower (123 29N 26 51E) on Sunday, August 19th at 3pm EST, 12 PDT. So come one come all & find out who the greatest warriors in the lands are!!!!! To find our city, please consult the maps found at the following location: http://www.avaloncity.org

Katie of Avalon

Posted by Thellaren at 12:19 AM
Wedding on Baja, Tera Star Room! (Trammel)
A reminder of the following event was found posted to the Golden Brew Board:




Reception at the Lions den Afterwords. Gifts Welcome. Volunteers to help gate and setup for the reception are welcome also. Please contact me at mimi721@hotmail.com if you have any questions.

Morgana
Posted by Thellaren at 12:12 AM
August 15, 2001
In Development: Treasure Map Changes
Sannio (Online Community Coordinator, UO) recently posted the following new piece to the official UO Development Board:
Many of you may have already read or know about some changes to Treasure Maps that are in development (and you can read about them here).

I wanted to point out I left out one item on the list of changes, but which is now actually listed, as follows:

"It will now be possible for players to reach 100.0 in cartography through creating world maps as well as through decoding treasure maps (previously, a player could only reach a skill of 98.5 through creating world maps)."

Bon cartographie!
Posted by Hazard [EiC] at 10:03 PM
House Decorating & Wedding Services!
Lady Bronwyn of Baja now offers services in House Decorating and Wedding Preparation. Her new brochure had this to say:

Myself and various members of CwR have taken a great delight in decorating. Often times, Apollo in particular, they will give me an idea and I see what I can do with it. I also study other homes and websites and often try to do something unique with it. This isn't always easy, but the finished project is always well worth it. There are many many creative people in our online community and my hat goes off to them.

As for weddings, I think they are wonderful in game. I myself have had two very beautiful weddings. It was such a joyful experience. I can distinctly remember how nervous I was! Its a great way to create allies, friendship and love.

Get your copy of her colorful brochure by touching the picture above.
Posted by Thellaren at 9:49 PM
FCB Baja Fleet Sailing Again
I found the following news on the UO Stratics Fisherman Forum:
Hail to all you fishermen[women]. Haul out those creaky weather beaten boats and scrap off the barnacles. Sew up the sails, for the FCB Baja Fleet is back and sailing again. Myself [Lonestar] and Foofisher are the fleet captains! if you have any questions please feel free to give us a pm or ICQ us.

Lonestar-54512593
Foofisher-42314161.

We are building the BIGGEST and BEST Fleet in the FCB.

Because Gem is away this week and the applications go thru her, it might take awhile for us to get them. You can still be put in the guild if you contact Foofisher or myself. Also the Baja website will not be active until she comes back.

Lonestar,Fleet Captain,Baja
www.thefcb.com
Posted by Thellaren at 9:23 PM
Treasure Map Changes (In Development)
The following proposed changes to treasure maps were listed on the Development section of the Official UO Boards:
Several updates and changes will occur for treasure maps. The specifics are listed below:

A label will identify the level of the treasure map:

a youthful treasure map – level 0 (Ed: new level only for Haveneers)

a plainly drawn treasure map – level 1

an expertly drawn treasure map – level 2

an adeptly drawn treasure map – level 3

a cleverly drawn treasure map – level 4

a deviously drawn treasure map – level 5

An undecoded treasure map will still have the addition of "tattered"—plus one of the above notations—until being decoded.

A treasure map will be able to be used by those who do not own it, providing that they have enough cartography to decode it.
Posted by Thellaren at 1:53 AM
Further Barkeep Tidbits
Gromm recently posted three more pieces of information about the 'Barkeep' tool to the UO Boards:
1) How much will these guys/gals cost?
Right now we're looking at around 5,000 gold.

2) Do they require a daily fee to maintain or is it a one time fee
and they wll stay till you dismiss them?
One time fee and they will stay till you dismiss them. Since the barkeep doesn't make or collect money for you there is no upkeep or time limit.

3) is there a limit on how many can be in a house, besides floor space?
2 per house.
Posted by Thellaren at 1:43 AM
Reminder to Update UO Account Information
Sannio (Online Community Coordinator, UO) posted the following here:
Could everyone please take a few moments and update your UO Account contact information? I'll wait while you go do that. Here's a link to the "Modify Existing Account" area of the Account Management section.
.
.
.
Hm, I can see most of you haven't gone and made those updates. You're holding the rest of us up. Go at least update your e-mail address.
.
.
.
Tch. Okay, let me explain the problem, then.

Once in a while people have troubles with their message board accounts, and when I say "once in a while," I really mean I get a handful of password requests and such several times per day, all from different people.

Now, the help requests that come into boardhelp@uo.com are mostly based on legitimate problems, and I have no issues with helping people out who really need help. But helping them, helping you, often requires I verify your information, and a big part of that is matching up your correct e-mails.

But the problem there is, from what I can tell, most of you *don't* update your e-mail information.

GAH! *begins pulling out what's left of his hair*

Right now it'll take a couple of days to process some of these "boardhelp@uo.com" requests, but I'm worried that, soon, that may turn into a week or more.

Please help me out here. Give me some more time to read and reply on the boards. Go update your UO Account Information here. Thanks.

=========
Sannio
Online Community Coordinator, UO
Origin Systems
Posted by Hazard [EiC] at 1:37 AM
August 14, 2001
Blade Spirits Functioning on Ship Decks Once Again
From the Turbulent Waters site:


In what must surely be an unintended change, the blade spirit spell is once again able to be cast onto the deck of a ship, giving those who fight at sea a powerful weapon useful for interrupting enemy spellcasting and generally causing chaos for their foes. The spell was mysteriously removed from ship combat nearly three years ago and may have returned as a side effect of recent changes to the spell made for other reasons.

It is most likely that this changed in the July 24th patch which had the following intended effect on the spell, according to the official OSI site:

Bladespirits and Energy Vortex spells have been adjusted to be less processor intensive. This gives a server-side performance increase.

Bladespirits no longer display a paperdoll when double-clicked.

Some of the other effects of these changes were the removal of the ability of the blade spirit to poison its victim, and what is considered by some to be a lowering of its overall power and effectiveness by many who use them to fight monsters.The energy vortex spell is still unable to be cast onto a ship.

My thanks to Jazon, Guildmaster of the Pirates of Scoundrel's Cove on Atlantic,for pointing out this recent change. I had stopped testing blade spirits on ships long ago, having given up hope that they would ever work again. Whether or not the return of blade spirits to ship combat was intentional is unknown, as is whether or not it will remain possible to cast them onto a ship deck. For the time being, however, pirates able to cast 5th circle spells have a powerful new weapon to use.
Posted by Hazard [EiC] at 4:44 PM
Cleanup Britannia Campaign
From Crossroads:
In an effort to cleanup the damaged terrain and leftover junk in our world, the Crossroads of Britannia presents the Cleanup Britannia Campaign. We hope that you, the players will send in the locations that you think should be cleaned up, and we will provide this listing for the UO Live Team to use as reference when performing their maintenane duties. If you would like to submit locations, please post a message on the Dev Board or send email to us. Put 'Cleanup Britannia' in the subject line and list the following:



Your Name
Shard
Facet (Tram, Fel, Ilsh)
Sextant Coords
Description of the Mess (Emphasis on blocked locations and multiple doors)
Date & Time Recorded

Many thanks to Lothar of Catskills for sparking this idea with his post on the Dev Board, and for sending in the first listings. Special recognition goes to Nick Seafort at the Daily Herald for his efforts to cleanup map errors on Great Lakes.

Heather
Posted by Hazard [EiC] at 4:01 PM
Client Patch Set for Today
Pat Factor sent in the following news from OSI:
We will be releasing a client patch on Tuesday, August 14th, at approximately 2:00 pm CDT. For a detailed list of changes that will be included in this update, see http://update.uo.com/design_359.html. These changes will be added to Latest Game Updates once the patch has been released.

The current versions should now be 3.0.3a (2D client) and 3.0.3a Build 69 (3D client).

Please note: Once you have received this patch, you must completely shut down and restart your Ultima Online client before you will be able to reconnect to the game.
Changes will be as follows:
3D CLIENT


Paperdoll synch bugs from previous patch should be resolved.

Containers should work properly:


Relative locations of objects should match between 2D and 3D

Container pics on 3D resizable container gumps should hue to match item.

Bug where tall items might cause the contents of a container to vanish should be fixed, as should the crash that might occur in these incidents.



The following have been converted from 2D sprites to 3D models:


Rabbits

Snakes

Bullfrogs

Small Birds

Large Birds

Town & Sewer Rats



Some scenario models are also in this release.

Some creatures will now hue in the Third Dawn client:


Cats

Dogs

Ostards

Small Birds

2D CLIENT



Interface art needed for the event scenario is included in the 2D patch.

BOTH CLIENTS

Some problems with arm/disarm macros have been resolved.

Books and Bulletin boards now support Unicode characters.

Macros now support Unicode

Lots of localization file changes.
Posted by Hazard [EiC] at 2:27 PM
The Unofficial "UO Seers" Program Welcomes You!
Krosis sent out the following regarding their new UO Seer program, a project run by and for the players:

The Unofficial "UO Seers" Program Welcomes You!

Announcing the one-and-only multi-shard "UO Seers" Program. Have you always wanted to try your hand as a Guy (or Gal) in Green (a.k.a. a Seer)? Well here is your chance! The "UO Seers" Program is looking for dedicated individuals to create, assist, and perform quests on all Ultima Shards. We have no special powers, we have no robes, we have no ties to OSI, but we have what is most important: creativity, ingenuity, and ambition.

Maybe you have little free time or don't want to make any more commitments? No problem, you can also apply to be a Troubadour and merely assist in a few quests around the realm.

But that's not all! We also provide resources for quest creation and role-playing. Perhaps you don't know where to start when it comes to creating that masterful story line; come to our site! Perhaps you want to learn a bit more about role-playing; come to our site!

But wait! Our most valued service is that we work *with* your shard to help your communities design and perform their own quests. We feel that building a solid shard community is just as important as running events; and by working with you we can create those necessary ties, forming a great foundation.

We are a new group and as we grow, we hope to help each of your shards grow as well! Come visit our website today at http://uoseers.tripod.com or http://members.tripod.com/uoseers/index.htm to apply and/or find out more information!

Let the games begin!

--Krosis,
"UO Seers" Program
Posted by Ursula at 11:56 AM
August 13, 2001
Questions Needed for Interview
From Player2Player.Net:
Greetings once again!

We are currently trying to assemble a list of questions to present to OSI that mainly focus on the state of Felucca at the present time. Questions involving ANY aspect of player towns will be welcome as well. Once we have a suitable list of GOOD questions, we will be presenting them to a member of the UO Live Dev Team in an interview type setting. So if you have a good question concerning some nature of the problems facing Felucca right now, please send them in or post them on our board. Once a list has been finalized we will post it here. And then once the interview has been completed we will post that as well.

We currently don't have a specific time or date for this interview yet. I'll post here, with that information, just as soon as the time arrangements have been made.

Got a question? Then let us know! Email us at: staff@player2player.net

Korin the Scribe
Posted by Thellaren at 1:48 AM
August 11, 2001
Community Building Site
The Freeborn Press would like to bring the readers attention to a new site that was launched earlier yesterday. Here are the details:
Player2Player.Net Mission Statement

What we are seeking to do here is provide a place for player communities to discuss issues that they feel are important and to develop and discuss possible solutions. In short it's a place to talk.

It is our hope that in providing a centralized place for discussion, that we can show those at OSI just how important player input should be within the game. Not everyone with a good idea holds a Masters in Game Design and Programming. Remember you CAN make a difference. All you have to do is try.
To get involved with the community discussion or to read articles such as '
Repopulating Felucca
' or '
Townstone Thoughts'
,just proceed to the aforementioned location.
Posted by Thellaren at 12:55 AM
August 10, 2001
Changes to Animal Lore
New to In Concept:
** Note ** This idea is currently in a "concept" phase, meaning we want to get feedback on it. However please understand that this idea may change to be quite different from this proposal when or if it becomes finalized. Also note that this proposal might not get put in at all, depending on factors in the design process as well as the feedback we get from players. As more information becomes available about this concept idea, the update pages will become updated.

Animal Lore skill will be updated as a stand-alone skill, to accommodate localization issues and player- and Dev Team-driven suggested changes. This update does not include any changes where Animal Lore coordinates with any other skill.

Players will use the Animal Lore and then target any animal to obtain two random items of information about that animal, in addition to still discovering the current Loyalty level of an animal (tamed pets, only). Players may need to use Animal Lore on a given animal more than once to learn all the possible available information on that animal. The following lists all possible information that may be discovered with the Animal Lore skill:

Information about its training level, for tamable animals:

"It has only just begun its combat training"
"It is somewhat trained in the art of war"

"It appears fairly trained in the ways of combat"

"It has excellent combat training"

"It has superior combat training"

"It has nearly learned all there is in the ways of combat"

"It has mastered the art of war"

"It has learned all there is to the art of war"

Information about its past owners, for tamable animals:

"It appears to have known only one master in its life"

"It seems to have known two masters in its life"

"It appears annoyed at having known three masters"

"It appears angry to have known four masters"

"It appears infuriated to have known five masters"

"It is weary of human companionship"

Information about its diet:

"You sense that it likes to eat grass"

"You sense that it would delight in fruit for a meal"

"You sense that it likes to eat hay"

"This creature likes to eat grains"

"This creature devours meat for its meals"

"This creature will eat fish"

"This creature will eat various crops"

"You can't think of anything you could feed it" (Note: some pets don't eat)

Information about its current level of hunger:

"It looks like it's starving"

"It looks like it's near-starving"

"It looks pretty hungry"

"It looks moderately well-fed"

"It looks well-fed"

"It looks plump"

"It looks like it gets plenty to eat"

"It looks replete, as if it has just eaten"

Information about its natural resources (things you can get off of the animal):

"You could use this creature for its wool"

"It does well at carrying heavy loads"

"If this creature were dead, you could use its hides"

"You could slaughter it for meat"

"It is sometimes used for its wood"
Posted by Thellaren at 9:38 PM
Barkeep Phrase Totals
The Freeborn Press recently sent out the following question to Gromm, UO's Designer of Ongoing Content:
How many separate key phrases will a 'barkeep' be able to process and offer comments on?
The answer came back today as such:
The barkeep will have the three you saw in the pictures of the message gump and an additional one that is triggered by "tipping" the barkeep with gold. So that's 4 total phrases you can enter into a barkeep. 3 with keyword triggers and one with tips.
Posted by Thellaren at 2:24 AM
Changes to General Testing
New to General Testing:
3D CLIENT


Paperdoll synch bugs from previous patch should be resolved.

Containers should work properly:


Relative locations of objects should match between 2D and 3D

Container pics on 3D resizable container gumps should hue to match item.

Bug where tall items might cause the contents of a container to vanish should be fixed, as should the crash that might occur in these incidents.



The following have been converted from 2D sprites to 3D models:


Rabbits

Snakes

Bullfrogs

Small Birds

Large Birds

Town & Sewer Rats



Some scenario models are also in this release.

Some creatures will now hue in the Third Dawn client:


Cats

Dogs

Ostards

Small Birds

2D CLIENT



Interface art needed for the event scenario is included in the 2D patch.

BOTH CLIENTS

Some problems with arm/disarm macros have been resolved.

Books and Bulletin boards now support Unicode characters.

Macros now support Unicode

Lots of localization file changes.
Posted by Thellaren at 2:16 AM
August 9, 2001
Artificial Intelligence and Monsters
Calandryll, UO's Designer of Ongoing Content released the newest Comments From The Team:
The dictionary defines artificial intelligence as: "The ability of a computer or other machine to perform those activities that are normally thought to require intelligence." In some industries, artificial intelligence could allow machines to perform complex and/or dangerous tasks, thus saving humans the risk or trouble of doing such tasks. But what does AI really mean when we are talking about massively multiplayer monsters?

First, I think it's important that we define what the purpose of AI is for massively multiplayer gaming and, more specifically, for the monsters in the games. Is the purpose of today's gaming AI to replicate human thought? Not really. The above definition is nice, but it doesn't really apply to what we do. Some might say that AI is needed to make monsters more challenging. To me, that's not taking it far enough. For instance, I could make a new monster that has 25,000 hit points, 102AR, 500.0 magic resist, is immune to poison, and does 99 points of damage with a ranged weapon that hits 100% of the time. That monster would certainly be challenging to kill, but there's no artificial intelligence in the monster beyond its ability to target and attack players. It's not a "fun" monster.

And that to me is what AI in these games is really about...making monsters fun. That may sound rather simplistic, but sometimes the simplest explanation is the most elegant. If a monster is not fun to fight, nobody is going to consider it a successful monster design, regardless of how challenging it may be. Fun does not always equal challenging and, more importantly, many players do not want monsters that are as intelligent as players...otherwise, why not just fight players? They want monsters that are fun. Sometimes a fun monster can be something that reacts to your actions, or perhaps it works together with other monsters of its kind to defeat its enemies. Whatever its abilities, if the monster isn't fun, then all of the artificial intelligence in the world is meaningless.

To illustrate the kind of AI I am talking about, I'll give you the example of the savage shaman. Each time a savage shaman is hit, she has a chance to initiate a tribal dance. If she initiates the dance, she searches the area for other savage shamans. If she finds three or more savage shamans within a certain radius, the shaman and all those near her begin to dance. When they finish the dance, the savages cast a powerful group spell that can cause harm to players or even heal all savages near the casters. Needless to say, letting them cast these spells could spell doom for would-be adventurers. But, if you are able to slay enough shamans before they finish their dance, then you can interrupt the spell before it is cast. Or, you can run away from the savages and if you escape the spells' range, avoid the damage of the spell. This kind of AI causes you to react differently than you normally would, without creating undue challenge, and gives you choices for how to react. It also has visual cues, letting you know something is about to happen and giving you time (although not much...you've got to think fast!) to decide what to do. Do you try to kill the shamans before they finish dancing? Or do you run away, hoping you can escape before they finish? Or perhaps you just continue fighting, preparing for the spell, knowing that your friends can handle its effects. If savage shamans were nothing more than white hued humans that cast spells they'd be no different, for all intents and purposes, than evil mages, orc mages, or any of the other spell casting monsters with similar stats. It's not their look that separates them from the other monsters in UO...it's what they do.

Of course, none of this takes into account the other reason players like to fight monsters...loot. No matter how cool a monster is, if the reward is poor, people will be less likely to interact with it and hence, the monster will not be considered a success. But how often can we keep adding the typical 100-250 gold and a 10% chance of some rare new item on every new monster? No, there has to be other kinds of rewards to engage players with new monsters. Perhaps fighting these monsters is necessary to achieve some part of a scenario, like the savages in the previous scenario. Or maybe, the monster isn't aggressive at all, but rather, its actions give you evidence (like the frightened orc) of changes in the world. New ideas of intangible rewards, like titles or even abilities unavailable through normal game-play, should be explored.

I don't believe that we, as designers, have even scratched the surface of monster design with massively multi-player games. Aside from the way they look, too many monsters are nothing more than different variations of hit points, damage, and armor values. The team for Ultima Online is going to be trying out some new things over the coming months to help change that. Hopefully we'll present you with some new, exciting monsters...and of course, some fun.

Jonathan "Calandryll" Hanna
Designer, Ongoing Content
Posted by Thellaren at 12:19 AM
August 8, 2001
Unused Character Purge
Recently posted to the UO Boards:
Character data takes up a great deal of space on the servers. Many players have multiple characters that they do not play (characters made for one-time events, made during their regular shard downtime, etc.). Purging characters that are not being used will result in shorter backups, decreasing shard down time and increasing overall performance.

Design
Characters are deleted after three months unless:
The character has over 75 total stat points. All characters that are over 75 stat points will not be purged by this system.
Characters at or below 75 total stat points will need to be "refreshed". Refreshing is defined as logging a character in and then logging out. Logging in a character will reset the three month timer.

Warnings
In order to warn players, shards on the Shard Selection screen will appear in a different color when characters on that shard are scheduled for a purge. Character names in the login list will then appear in the same color if they have not been logged-in for over 2 months. This will serve as a reminder and also warn the player in case a time-warp results in the "refreshing" of a character not saving.

In addition, players will be e-mailed a warning before any character is purged. It is very important that all players keep their e-mail address updated in the Account Management section of the Ultima Online website.
Posted by Hazard [EiC] at 10:00 PM
Questions About Barkeeps
Gromm (UO Designer, Ongoing Content) has been keeping UO Board regulars updated with the most current questions about the Barkeep tool:
How many characters are you able to write in as an answer?
As many as you can fit on one line of typed text.

Can you customize the food menu?
No, it's preset. It has most of the food and drink items an innkeeper has with the exception of a few things players make with the cooking skill.

Are foreign letters (long lives the localization - lol) allowed to use there?
The barkeep is programmed to be usable with any language set. This will mean that if you use an English client and you encounter a barkeep that has been filled with Korean characters you may not be able to enteract.

Do the different titles come with a custom costume for the barkeep?
No, the barkeep will spawn with a standard outfit. After that you control when he changes outfits, exactly like the vendor customization menu.

Where is the house your barkeep is guarding? :)
On my standalone computer I use for coding. First one there can have it. :D

Also, Jahova, the barkeep will not stable animals. We currently have no plans to create a player owned stablemaster.
He also added the following:
Well the barkeeps will have the scenario news, just like the town criers did. That will be localized.

Otherwise, any player entered messages wil be language specific. A keyword entered in Japanese characters will have to be said in Japanese characters to get a response
Posted by Thellaren at 12:52 AM
Community Sharing Opportunity
Sannio, the UO Community Co-ordinator, posted the following new thread to the UO Boards:
I love player-run venues and themed communities. Love'em. Can't get enough of them. I've spent a lot of time reading about them, going to various Shards and visiting them, and even participating in the building and running of some. I loved learning about them and I loved comparing notes about them.

I think a lot of people enjoy the type of community building that comes with these sorts of group-supported efforts, and I'd like all of you to share what you know about the player venues and themed communities on your Shards, here, on this "Roleplaying and Events" board. In this way I'd like to help as many people who play UO as possible, newbie or veteran, to learn about some of the opportunities they have available in regards to joining in community endeavors. So much changes in UO, in a monthly, weekly, or even daily basis. I think it'll be a great to get out the word about your venue/community to people who might not normally know so much about it.

Here's how I'd like you to help with this. Post a reply to this thread about the venue or community you help with in the following manner:

Subject:
Shard Name - Facet - Venue or Community Name

Post:
Shard Name - Facet - Venue or Community Name

Web site address: the primary Web address/URL for that venue/community
Sextant Coordinates: ##o##' ##o##'
Directions: (How to get there "by foot")

One short paragraph summarizing the player venue or themed community.

Hopefully each venue/community only has one thread, but if some entries appear more than once, that's fine, too. *grins*

You may have noticed I've posted the first reply to this post, concerning some place called "Mystery City." I'm using that as an example of how I'd like everyone to post about their venues/communities. Feel free to go peruse my admittedly fading memory of Ultima Online's first acknowledged player city. (And, if you have more information about Mystery City, please respond to that particular post!)

By the way, when I say "venues," I mean simple shops, taverns, rune libraries, rares museums, vendor malls, theaters...any single building in UO that offers some kind of service to the general public. When I say "themed communities," I mean players who play at being orcs, undead, savages, pirates, vikings, necromancers, monks, nobles, rangers...any group of characters that shares a common theme, allows anyone to try to participate, and has an easily locatable base of operations within the game (such as the theater in Britain, the castle in Nujel'm, a player's own tower, a tavern in an NPC city, a graveyard, any one of the various orc forts, etc.).

Thanks for helping.
Posted by Thellaren at 12:19 AM
August 7, 2001
Barkeep Preview
Gromm posted the following on the UO.COM Scenario Forum:
We know you like to see the new stuff early!

The barkeep is currently in QA testing and is still considered to be in the Alpha stage so these are subject to change.

Enjoy! :D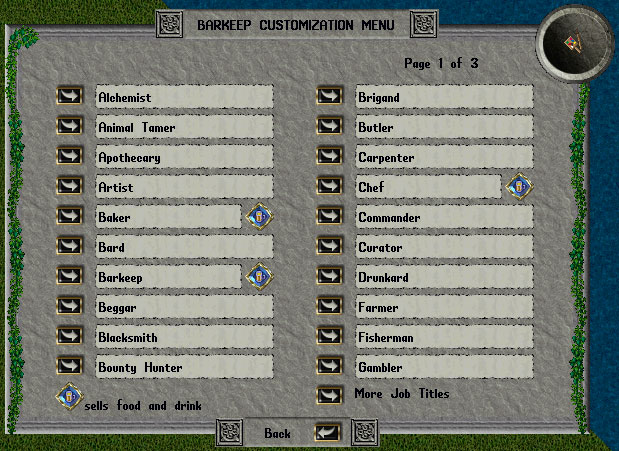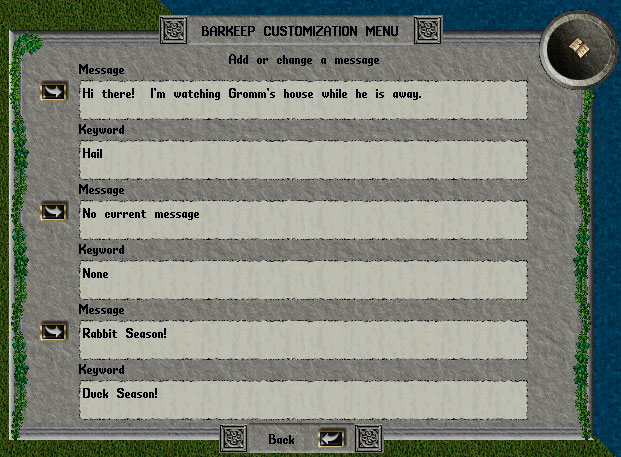 Posted by Thellaren at 3:38 PM
August 6, 2001
Hearts of Baja
Posted to the new Hearts of Baja website:
Looking for the love of your UO life? A new hunting companion? Or maybe just someone to hang around Brit bank with? We are here to help!

Introducing the Hearts of Baja website. We offer the Baja community a lighthearted matchmaking site where you can send us your information and our staff will match you up expertly and confidentially. We also have an easy to use message board forum where you can fill out the requested information and make public your match criteria to broaden your chances of finding that special someone.

A special welcome from shard liaison, Victorias Secret:

Hello and welcome everyone to Hearts of Baja :-) I play a well established character by the name of Victorias Secret on the Baja shard of Ultima Online and I am here to offer a valuable tip for those interested in trying the Hearts of Baja matchmaking services. *curls up in a plush throne dyed signature VS pink* Now, as long as I have been playing UO, I've come to learn that one of the hardest aspects of gameplay has been to find amongst the many that special someone in the game whom you would be willing to give your heart to.

To those even remotely interested in UO love, the search seems pretty intimidating. Not everyone is looking for love, not everyone has that special quality that you know you need, not everyone is in your age group/plays as often as you do/has that easygoing personality to see you through those tense standoffs at the Daemon Temple :-) But I digress.

Thisservice presents you with the chance to share your secret yearnings for that elusive "other", that dream UO companion. So go ahead, the bola is in your court! Take advantage of the limitless possibilities Hearts of Baja offers.

After all, UO is a game of the heart and mind, and the elements of fun within will always be at your fingertips accessible lock and key by YOUR imagination only! With all that said, don't forget to have fun and may love's fortune smile upon thee and thine :-)

Love,

Victoria's Secret
Posted by Thellaren at 9:54 PM
Comments from Vex: Ultima Online's Economy
New to Comments From the Team:
I'd like to take a moment or five to talk about UO's economy in a big-picture sort of way. The things I am writing about here are basically my thoughts and opinions as a game designer. Nothing written here is to be construed in any way as plans for future development on UO. My intent is to give you a little insight into my thought processes on the subject.

Most players will agree that, while UO's economy in some respects works amazingly well, it also has some downsides. For example, take the housing trade. It has been a roaring success despite early on lack of support for secure house trading. Houses are bought, sold, and auctioned outside the game. UO's virtual real-estate market reflects a real one in many ways. Some properties are at premium value and others are more modestly priced. Location, size, and other factors influence the market, which is entirely driven by its participants.

But, in other respects, like player-NPC trading, the system is completely controlled by the game engine. Prices for commodities are mostly fixed, somewhat limiting dynamic supply and demand-based economics. Furthermore, there is no guarantee of supply of a needed item (like spell reagents), making it somewhat inconvenient at times for players to get the things they need right away. It is clear that the system could be improved – and it is our job, as game designers, to create workable win-win solutions.

So, what is the basis for the imperfections in UO's virtual economy? The answer lies in classic design approaches rooted in single-player games. Classic single-player design approach dictates a totally designed economic situation. It makes perfect sense in the context of a single-player game. Almost universally, prices and monster loot are fixed in single-player RPGs. Designers have goals in mind. In a single player RPG, the "economy" designed into it isn't an economy (in this context) at all. Rather, it is a subgame built into the whole. Game designers predetermine monster loot and shop item costs. Its whole purpose is to act as a barrier to overcome in order to win the game. Usually, by the end of such a game, the main character has more money than he can use. The economic subgame has been beaten. There is no point in simulating a supply and demand economy in this kind of game. It would just be a bunch of trees falling in a forest with nobody around to hear, while the player is busily slaughtering demons in the underworld.

Unfortunately, the same approach is almost universally used in multiplayer games as well. Better equipment costs more money, and higher-level monsters drop more. In the early game, a player might have to play for an hour to collect up a few hundred units of currency, but in the late game the money might be rolling in ten or a hundred times as fast. The only problem is, in a multiplayer game you have "lowbies" and "ubers" mixing it up together. One veteran player giving away the loot from one short hunting trip to a new player will totally blow the curve for the new player. One thousand gold coins might mean five minutes of play to a veteran, but five hours to a newbie. This illuminates a basic flaw of the multiplayer game's economy. It's true that in the real world, one hour of an all-star basketball player's time might be worth thousands of hours of an average Joe's. The only difference is, in a multiplayer game, all players can reach that all-star level of virtual income just by progressing through the game. If everybody in the world got multimillion dollar contracts to do their jobs, then the dollar would be next to worthless.

How could it be designed better? That's a tough one, for sure. The casual gamer probably doesn't want to spend much time shopping. Being on a limited time budget, this type of player wants to equip and go. Many players would probably prefer fixed prices, considering that prices are generally stable in the real world and they're used to fixed prices in single-player games. Merchants would prefer to see real supply and demand determine prices, finding the dynamics of a reality-based economy enjoyable. Virtual craftsmen want to be guaranteed a demand for their services. With so many different playstyles to accommodate, a perfect solution will be difficult indeed to find.

I'm going to leave this article at that, for now. For my next few Comments from the Team articles, I intend to delve deeper into this same subject. Eventually, I'll get around to exploring some possible solutions, and I look forward to discussing this subject at our upcoming Online Worlds Fanfest.

Michael "Vex" Moore
Designer, UO Live
Posted by Thellaren at 9:45 PM
New Bug Delays Vet Rewards
New to FYI:
Due to a new bug just found which allows players to collect more Vet Rewards (http://update.uo.com/design_350.html) than they should, the re-implementation of the Vet Rewards program is being delayed. We regret having to extend the schedule, but this bug, which involves the use of a third-party program, would negate the benefits of the entire system if left unfixed. We believe we have solved the issue, and the system is now being retested, but we do not yet have an estimated date as to its release. We will update the players as soon as we have more information, and we apologize for this necessary delay.
Posted by Thellaren at 9:37 PM
Illegal Purple-Hued Sigil Items
New on FYI:
In a strengthened stance against exploits, and due to the high number of support calls generated, we are now taking a stronger stand on illegal purple-hued sigil items. As of today, any players found selling these items, either in-game or out-of-game, will receive an automatic 72-hour suspension from Ultima Online, a final warning on their account, and the items will be deleted. Any accounts that have already been placed under final warning will be terminated.

Players with these items already in their possession should note that these items are illegal, and should dispose of them through the nearest waste receptacle, or place them in a backpack and hand them off to an NPC Cobbler to be disposed of. Any remaining items that were dyed through the use of an exploit will very likely be re-hued in the future.

Anything that can be dyed through use of a normal dye tub, including clothing, metal kite shields, and all footwear (excluding sandals) can be hued this shade legally. If an item is purple, and cannot be dyed through the use of a normal dye tub, it is a result of the sigil exploit, and should be disposed of immediately. It is vital that we enforce a NO TOLERANCE rule against exploits, and/or benefiting from exploits, in Ultima Online.

Thank you for your understanding,

Ultima Online Support
Posted by Thellaren at 11:01 AM
August 5, 2001
Hero Titles and Light Sources Comparison
The following research was just completed by various members of UO Stratics:
First of all FatherGanja has been living in the Hero Title spawn areas for many days, trying to get as many details as possible. With the help of some other staff members he was able to get some fine results. You can find all that on our Hero Titles page. Now all we need to figure out is what those third tier titles are :)


Next on the list is some research done by Sie Ming on light sources. As you may know, the various light sources in UO all give a different amount of light, which can best be seen when walking in dark dungeons. To find out all about the differences between Campfires, Candles, Lanterns, Torches, Nightsight Potions and the In Lor spell, go see the Light Source Comparison page.


Xena Dragon
Posted by Hazard [EiC] at 1:23 PM
***ImaNewbie does Britannia!***Collector's Edition CD
From Yahoo Groups:
Ok folks, here's the deal. You may have noticed that I have been down for the better part of two weeks due to having to change server addresses and the time it takes for changes to take effect. I have been doing these 'toons thru thick and thin for over three years now. In that time I have gone through about five different hosts, several changes of server addresses, umpteen server outages, Y2K, T2A, UOTD, Melissa, SirCam, Code Red and a half dozen other viruses, DOS attacks, and all manner of plagues and pestilence.

For that reason I have decided to offer up the entire three year collection of ImaNewbie to date in an exclusive Collector's Edition CD that will let you browse to your heart's content, anytime, regardless of whether the Internet or your Service Provider is Up, Down or Sideways at the time. Another bonus feature is no annoying advertising banners, pop-ups or cookies. Plus I have added a bunch of new stuff including an introduction and short history, character bios for all the major characters, indexes and some other stuff not available on my regular site. You can get all the details by heading over to my site. Check it out.

ImaNewbie does Britannia

later...Tryon
Posted by Hazard [EiC] at 2:20 AM
August 4, 2001
Faction News
This has been an exciting last few days for factions on the Baja Shard. The unrelenting Archangel led the Shadowlords (SLs) in massive raid campaigns against the newly reinforced Council of Mages (COM) this Friday. As the SLs arrived they found True Britannians (TBs) also raiding, and decided to ally. But their alliance was short lived, as there was confusion on the battlefield and TB quickly soon betrayed their allies. These factors made the SLs suffer heavy losses as they were surprised by the turnaround.

Archangel would not give up, though, and forged a lasting alliance with the TBs and Longshot, their leader, and decided to raid again. This time the SLs came up with a new tactic and decided to split COM's forces by attacking from the stronghold's bridge. But time dragged on, and the TB force dwindled in size. The Shadowlords soon found themselves stranded, and, with no other choice, were forced to retreat. This final victory added together with the retirement of Minax' Lords of Death [LoD] from factions (to go to Chaos) and ensured the Council of Mages' hold on all 8 factions cities for the next 3 days.

This reporter was amazed by the dedication of the COMs, since every scouting effort reported at least 20 COMs guarding inside their base and many more were ready to be called into action. Personally, I am impressed, and feel they do deserve all the towns for their efforts-even Minoc, which was in the hands of Talon D'Bane and Reshteel (Shadowlords) for an amazing 36 days.

Pat Factor
The #1 Stunna
M&D

Update- Minoc is not under COM control as of this moment due to the efforts of the TB thief Ratboy and the precision strike on COM by the SL. The Minoc sigil is still up for grabs.
Posted by Ursula at 3:28 PM
Crashing & Shopkeeper Restocking Fixes
New to Testing for Next Update:
This testing update addresses certain crashing issues involving containers, and a fix is being added regarding restocking & overstocking of certain NPC vendor inventory items.

A crash issue involving containers is being addressed, and involves dumping items to a players/pets feet if their pack is overloaded

To ensure that player-created materials retain their value, a fix is being added to vendors that will allow only up to 10 of each of the following items to be available from that vendor (until it restocks its inventory).

boards

arrows

ingots

bolts

hides
Posted by Hazard [EiC] at 2:36 PM
Creating Boards, Teleporting into Blocked Locations, and Balron Spawning Fix
New to General Testing:
This update addresses the creation of boards, stuck players teleporting into blocked locations, and adjusting the balron spawning within an Ilshenar dungeon.

Players will no longer gain skill for creating boards, and all logs in a player's backpack will be changed into boards when boards are created.

An issue where stuck players could be teleported into blocked locations (causing them to be stuck again) has been resolved.

Fixed an issue causing balrons to spawn in an inaccessible area in an Ilshenar dungeon.
Posted by Hazard [EiC] at 2:30 PM
Third Anniversary of The Golden Brew
Please join us this Tuesday, August 7th at 6pm PST
as we celebrate the Third Anniversary of The Golden Brew in Trammel.

Events will be:

Panty Raid III: Find the most panties and win 25K.

Relay Race: Teams of three people each will race against each other. The team finishing first wins 75K.

Horse Race: Riding a REGULAR HORSE, run the course the quickest and win 50K

Cooking Contest:This new event should be lots of fun! Find out who's the best chef in the land! Prize: 50K

Come enjoy fun, food and friends as we kick off another year at The Golden Brew!
Posted by Hazard [EiC] at 12:46 AM
August 2, 2001
Wanted: Calling All Pirates!
Posted to the FYI section at UO.COM earlier today:
"Arr! There be a great, grand ship ahead. And where there be a grand ship, there be treasure to be had. Check the riggin'! Load the chase guns! Raise the Jack and haul wind! There be no sweeter trade than the life of a pirate."

Do you enjoy plundering ships? Are you fond of colorful bandanas? Does your pet consistently crave crackers? If so, we want to hear from you! We're seeking tales of high-seas adventure and treasure-looting escapades. Tell us about your greatest battle or your most valuable pickings. Victims of swashbucklers are welcome to send in stories as well!

Send your story as an e-mail, with a single screenshot attached, to uo-profiles@uo.com by Friday, August 10th. Please be sure your story falls between 500-1000 words, and include "Pirates!" in your subject line. The screenshot should be in bitmap format, and 640x480 resolution. Please provide a name and phone number for verification of the story. Submissions to "uo-profiles" become the property of OSI and may be used for special events, promotions, and/or advertising. All submissions must be made by the original author and are subject to verification.
Posted by Hazard [EiC] at 9:23 PM
Ilshenar Monster Spawn Map for UOAM
From Markeedragon.com:
Announcing the Ilshenar Monster Spawn Map for UOAM. Designed to work in harmony with the current UOAM maps you will soon find this map indispensable! Many who have had the chance to view it already have used it to organize their guild hunts in Ilshenar. Enabling them to pick the difficulty of beast they wish to confront and so control the level of challenge the hunt gives them, safe in the knowledge that they wont have any fatal surprises! So if it's a guild hunt you want to organize, or if you're looking for the location at which that elusive monster spawns, or even if your trying to find one of the many Roving Gypsy camps in the area then look no further. You have just found the perfect solution!

Markee Dragon is proud to host the Ilshenar Monster Spawn Map for UOAM. Special thanks to Luke "Klesk" Canvin for his hard work in creating this map.

Markee Dragon
www.markeedragon.com
Posted by Hazard [EiC] at 3:28 PM
Taming Concerns
Sannio recently posted to the Tamers and Rangers Board at UO.COM. The following paragraph sums up just a bit of what he is looking for.
Hi, I'm new here, and I was wondering if you could help me get up to speed on some of these Tamer concerns that have been coming up. There's a whole lot that I need to read, and if you could help summarize some things for me, that'd be awesome.

Sannio
Online Community Coordinator, UO
Origin Systems
Follow the link above to delve more into the subject matter and to read follow up issue summarizations from the taming community.
Posted by Hazard [EiC] at 12:55 AM
August 1, 2001
Ominous News from the Savage General
Here is more of an official slant from the Dawn Forums about the Savage General event mentioned earlier today:
The citizens of Brittania sentenced the savaged general to die for "crimes against humanity." The general was burnt at the stake Sunday night at the Guard Tower near the First Bank of Britain (Trammel) following a careful interogation and trial held at Lord British's Castle.

During the questioning of the general at the Dawn Guard's Prison(Felucca), the history and plans of the savages were revealed to members of Dawn leadership. According to the general, the savages plan to "open the gate for the coming of 'her'" and Occlo is the stage. Dawn scholars are currently examining texts to discern what "her" pertains to. Contemporary theorists believe it is the prophecy of the coming of Minax, who will one day walk upon the earth as man. Members of the recently formed Drow Faction in Dawn, however, pose a different view; the coming of Lloth and the destruction of the Driders.

Lord Will Avengem
Posted by Thellaren at 6:19 PM
Wedding Announcement (Trammel)
The following wedding announcement was posted to the UO.COM Event Calendar for Baja:
Event: A Wedding Between The Lady Nightmare and the Lord Merlinist
Location: A Flowery Place by Yew (Trammel)
Time/Date: Aug 19, 6pm-7pm PDT

NOTE:
We would like to invite all our old time friends to join in this joyous event. Any and all are welcome. Gates will be opened from Moonglow on Trammel.

The Order of Leonine is one of the oldest guilds in existence and would like to welcome all to this glorious event.

The Lady Morgana of the Order of Leonine
Posted by Hazard [EiC] at 4:44 PM
Baja Trade Fair (Trammel)
The following event was posted to the UO.COM Event Calendar for Baja:
Event: Baja Trade Fair
Location: Skara Brae Fair Grounds (Trammel)
Time/Date: August 4th, 11am-2pm PDT
Purpose: Bring all of your unwanted items for Trade or Sell

NOTE:
Prices should be reasonable.
Dickering for prices and or trades welcome.
This is to be a pleasant time for all.

Grasser
Posted by Hazard [EiC] at 4:38 PM
Fairhaven Scavenger Hunt Results (Trammel)
Weekend Event Results from the Fairhaven Village Site:
Saturday evening 4 teams took place in the scavenger hunt hosted by Fairhaven Village that lasted nearly two hours. Participants were sent chasing around the world in search of certain locations which had been hinted at in clues and riddles. There were a total of 7 clues each with a corresponding location and checkpoint. After visiting all seven locations, the winners, a team from the MHZ guild led by MaxSterlingMage, Honey and Zalbag, were presented with a check for 500,000 gold pieces. Food and drinks were served after the event, and a good time was had by all. A big thanks to everyone who participated and helped out in this event.

Silkon
Posted by Thellaren at 4:10 PM
Execution of the Savage General (Trammel)
Recently Lord Will Avegem announced the following news relating to Dawn:
Dawn's successful raid on Occlo culminated with the capture of the savages' principal leader, the savage general. As of yet, he awaits trial for "crimes against humanity" in the Kingdom of Dawn's Prison. Since the motives of the savages and their reasons for holding Occlo are still uncertain, the citizens of Brittania will have the opportunity to observe and participate in the interogation of the general. The general will be relocated to Lord British's castle, where the trial and interogation will commence.

The savage general will be interogated this Sunday (7/29) at 8pm PST in Lord British's castle (trammel). If found guilty for "crimes against humanity" by the citizens of Britania, the general will receive a sentence of death and public execution in Brittain's square.
On the night of the execution, Baja citizen Kraagon made the following painting of the event which transpired. According to his brief report, many citizens gathered at Lord Britishes castle waiting for the trial to take place.
The savage general was then brought forth from where he was being held, in the guard tower next to the Britain Bank. Questions were then exercised in the throneroom, and apparently the general was found guilty, for his dead body was later found by the painter on the guard tower roof.
If further information is available, feel free to send it to us here at the Press.
Posted by Thellaren at 3:46 PM
The Seas of Ilshenar : A Survey From the Shore
The following new report was found on the Turbulent Waters site, UO's premiere site for all things relating to the ocean:
No ships ply the waters of this strange new facet. Rumors of seahorses on the waves have proven unfounded thus far. Nonetheless, one can see much of the seaways and rivers of Ilshenar by engaging in a little exploration. And now that UO:Third Dawn is running relatively well on my computer, I finally did just that over the weekend.


The actual space covered by them is relatively small. Indeed, most of the bodies of water are referred to as termir, meaning "lake" in the language of that facet, which seems derived from the same language of the magic spells used in everyday casting. There are also pormir, which is a river in that language. The map of Ilshenar is the source of these terms for these areas, and their translations.
For a more detailed look at Ilshenar, read the rest of the report
here
.
Posted by Hazard [EiC] at 2:24 AM