« Baja Leads all of UO in Faction Kills | Main | Richard Garriott is in the Gaming Business Once Again »
May 12, 2001
Baja Community Honors Ex-Volunteers
The following article by Cymidei Fier was posted to UO Stratics:

Baja Community Honors Ex-Volunteers

Today players gathered from all over Sosaria to honor the senior counselors, counselors, elders, and seers that have served the community.

What started as a small group at 6:00 PM soon grew into a large crowd. Everyone donned a colored robe and held a candle. Soon people started talking about their memories of the volunteer program.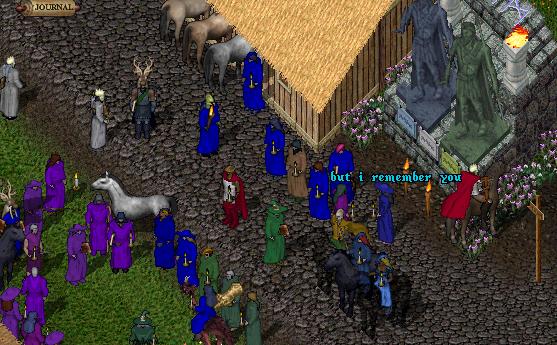 I overheard many players from the community giving heartfelt thanks to the seers and counselors who have helped them over the years. The following ex-volunteers came tonight: Eliar, Meredith, Lady Geri, Justinarius, Tearyl, Lord Jim, Cupid, Athena, Illithana, Tar, Paul, Tarragon, Takara, Gar and Verkat.

The sentiment of the gathering seemed to be "I can't believe its over..." One of the ex-counselors said "It was over too soon! I just went solo three months ago...I was so excited." She was not alone in her sadness. A seer in training for Baja also said, that he was only days away from earning his robes.

It was a privilege to get a chance to talk to the volunteers that have helped us, entertained us, and been there for us. Each one in their own way helped to make Baja a better place. They will be remembered.
Posted by Thellaren at May 12, 2001 12:55 AM