« Announcing the Cast of the Golden Brew Player's Winter Play | Main | Nigel sworn into BS&R »
December 7, 2000
Adventures of a Cookie Salesman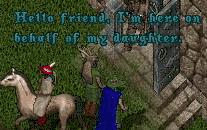 I read a half-mention of something on Lum the Mad that lead me to "Adventures of a Cookie Salesman". This is a 10 page Ultima Online cartoon, starring a parent roaming Britannia while trying to sell cookies for the Vesper Girls School. Here's the opening paragraph:

Like any good husband and father, I do as I'm told.  My wife and eldest daughter told they needed to sell cookies as a school fundraiser.  They said other fathers sold them at the office and I was expected to try as well.
You can read about these amusing adventures here:
http://www.pusateri.org/blood/pictures/cookie1.html
.
Posted by Thellaren at December 7, 2000 11:25 AM